Final Destination: Two More Vegas Survivors Die Weirdly
from here
Just weeks after surviving the Las Vegas massacre at the Route 91 Harvest country music festival, a married couple from California died in a fiery wreck when their car rammed into the gate of their gated community and burst into flames less than a mile away from their Riverside County home.
Dennis Carver, 52, famously jumped on top of his wife Loraine, 53, to shield her from the gunfire during the Vegas massacre.
When Dennis Carver realized the loud cracks weren't fireworks but instead rapid gunfire, he jumped on top of his wife, Lorraine (Lora) Carver, to shield her from the bullets. –Las Vegas Review-Journal
Officials report it took firefighters over an hour to put out the fire caused by the Carvers' wreck. Their 16-year-old daughter, Madison Carver described hearing a "loud bang," and saw her parents' crashed car in flames when she went to investigate.
The Carvers' eldest daughter, Brooke, 20, posted the following on Facebook Oct 20:
"This week we have been through more pain than we have ever been and probably will ever go through again. It's hard to see Gods (sic) plan right now and how this was all part of it, but through the support of family and friends we have been pushing through."
Other mysterious deaths
Granted – any event with 20,000 attendees will statistically have a few people who don't make it to Christmas, however two other survivors of the Vegas massacre who notably said they saw multiple shooters have died weirdly, and one of them was trying to organize a survivors' group to coordinate accounts of the incident when she died.
Kymberley Suchomel
Vegas survivor Kymberley Suchomel died October 9 in her Apple Valley, CA home just five days after she posted her version of events to Facebook. Her grandmother told the Victorville Daily Press that Kymberley appeared to have died in her sleep:
"Kymberley had epilepsy and she's always been prone to seizures — she told her friend that she recently had three focal seizures," Julie Norton said. "I believe the stress from the shooting took her life."
Kymberley's said on Facebook that "every single survivor I have talked to also remembers multiple shooters, and at least one from the ground." 
A longtime friend of Suchomel's also posted screenshots of a conversation with Kymberley in which she said she was planning to "organize a group of survivors" in order "to piece things together."
"You can share my comment for sure," Suchomel told her friend,  "And you can leave my name" she added. "I'm trying to organize a group of survivors so if anyone wants to contact me they can. Because this fucked up shit doesn't make sense and we are trying to piece things together."
Five days later Suchomel was dead.
Danny Contreras
The next mysterious death of a Vegas massacre survivor is Danny Contreras – who described multiple shooters as well. The 35 year old reported his account all over – with one of his tweets shared hundreds of times which stated "can't believe i got out of concert alive! 2 men chasing me with guns."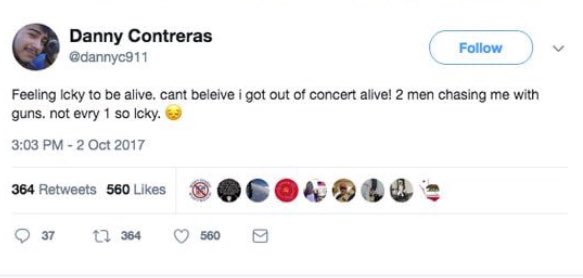 Contreras was found dead in a vacant Las Vegas home with multiple gunshot wounds.
Police said 35-year-old Danny Contreras was found dead at 7:05 a.m. Monday. A woman who thought she heard a man groaning had called 911 requesting a welfare check on the 5800 block of East Carey Avenue, near North Nellis Boulevard.
Contreras died of multiple gunshot wounds, and the coroner ruled his death a homicide. –Las Vegas Review Journal
Las Vegas Police homicide Lt. Dan McGrath said it's possible Contreras had gang ties based on the fact that he had tattoos, though the killing was likely related to narcotics rather than gang activity.
Neighbors said they did not hear any gunshots, however they heard arguing and a dog barking.
While the fiery death of the Carvers' after careening into the gate of their gated community is indeed mysterious, the couple did not post publicly about multiple shooters. Kymberley Suchomel and Danny Contreras, on the other hand, most certainly did before their untimely deaths.
Watch this video and tell me there was only one shooter: