Let us RISE | Censorship is on full throttle as TRUTH is bringing down the house of cards
This morning brought a new encounter with how prevalent and all encompassing the censorship bots of war are. While listening to Max Igan's newest video on Bitchute I decided to copy all the links to his information and share them in a comment on my Aureo Sky Facebook page and received this message:
~~~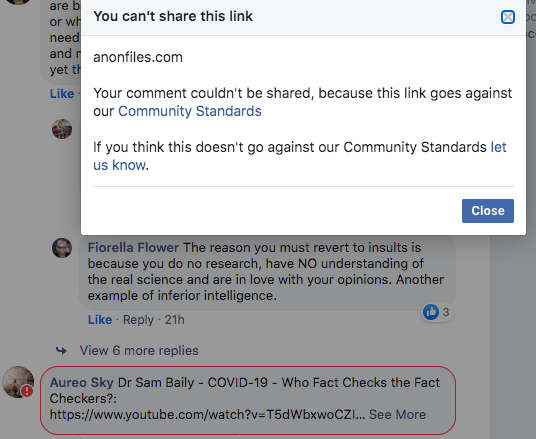 I am not sure why it is flagged at the top as anonfiles.com which appears to be a site for anonymously uploading documents. My reason for writing today after a many months long hiatus is to leave links to real and documented information. I strongly suggest that those who are interested in following the REAL Truth Movement sign up for newsletters and follow people on other platforms that aren't yet censoring content creators. I will leave a list of links at the bottom this writing.
Moving on with my muse, for some unreasonable reason I am elated today, the bubble of false reality is popping and there is nothing the deceivers, liars, and cheats can do about it. They will try with all their soul vacant might however, and we must be prepared for the fight that is ahead of us. I see so many others coming into their own divine and sovereign power. I love you all so much, go people!
Just a few links from doctors, lawyers and others:
Dr Sam Baily – COVID-19 – Who Fact Checks the Fact Checkers?

Press For Truth – THIS Is How You CONDITION The Masses For The MILITARIZATION OF COVID-19(84)

Dr. Reiner Fuellmich – Crimes against Humanity

Tory MP urges mandatory Covid-19 vaccine & certificate for travel

Ultimate Proof: Covid-19 Was Planned To Usher In The New World Order

Trump's New C19 Advisor Cites Research Showing Widespread Immunity!
Calls out CDC Head Redfield's False Testimony to Stunned Press
Operation Moonshot proposals are scientifically unsound, experts argue:

Should You Take the COVID19 Test?:

Dr OFFERS $5000 FOR PROOF THAT THE CV19 EXISTS
~~~
The Corbett Report is an independent, listener-supported alternative news source. It operates on the principle of open source intelligence and provides podcasts, interviews, articles and videos about breaking news and important issues from 9/11 Truth and false flag terror to the Big Brother police state, eugenics, geopolitics, the central banking fraud and more.
The Corbett Report is edited, webmastered, written, produced and hosted by James Corbett. An award-winning investigative journalist, James Corbett has lectured on geopolitics at the University of Groningen's Studium Generale, and delivered presentations on open source journalism at The French Institute for Research in Computer Science and Automation's fOSSa conference, at TedXGroningen and at Ritsumeikan University in Kyoto.
He started The Corbett Report website in 2007 as an outlet for independent critical analysis of politics, society, history, and economics. Since then he has written, recorded and edited thousands of hours of audio and video media for the website, including a podcast and several regular online video series.
High above the circus of mainstream media spin, death-defying talk without the safety net of corporate influence… this is HIGH WIRE.
Del Bigtree is a man with allegiance to no one and nothing but the truth. As an Emmy Award winning producer on the CBS talk show The Doctors, Del uncovered a story of corruption so morally bankrupt and profound that it destroyed his politics, his trust in medical science, and his belief in the mainstream media establishment that refused to allow him to do his job.
Now Del is on a quest to find answers to the questions everyone else is afraid to ask.
Tune in every Thursday at 11am pst, on Youtube, Facebook, or Twitter, @HighWireTalk
Ryan Christian has built a presence on line where he delivers a daily wrap-up of the most pressing issues we face in the world today. He meticulously documents everything he speaks to, is clear and concise when he is expressing his own opinion rather than simply reporting. You will find links on his webpage to many other stellar researchers.
As he always says: "Question everything" and "Don't believe me, do your own research."

The people who contribute to his website are found here. Included is Derrick Broze, who've I have met and consider a good friend. Don't miss his channel and website. Derrick recently launched the Counter-economic Underground Railroad, a project to help those who want to come to Mexico. There is a growing group of us here in Mexico and we also offer our assistance to help others. (Contact Christine at earthempaths@protonmail.com)
Other contributors are: Whitney Webb, Jon Rappoport, Vanessa Beeley, Jeff Berwick and many others.
"I appreciate everyone who stands in resistance to tyranny & COVID-1984 regardless of 'social status'. We are all in the same boat! We all stand to lose everything if we do not change course right now! What do we have to lose? What future will we leave behind for our children?" – Spiro Skouras
Spiro is one of the softest spoken but most relentless truth and freedom advocates on the internet, his delivery is easy to listen to.
His interview with Rosa Koire, author of Behind the Green Mask is one of the best I've heard on the subject of Agenda 21. I am honored to know Rosa, we met about three months ago and it is with a fierce determination we will continue to support people through what is almost sure to be a rough transition.

There is much to said for maintaining a determined optimism and finding people to work with where you live, building community becomes an imperative to survive during these unsettling times. If you haven't read about or looked into the growing Agrorist movement you might find a lot of support and inspiration in doing so.
There are two types of scientists: those that are bought by Big Pharma… and those that are not. The ones who serve financial and political purposes are the ones who get the largest platforms in the media and in governments. They will say anything in order to cash in millions of dollars.
The ones who are speaking the true scientific facts, are often silenced or simply ignored.
That's why I have listed the true scientific findings of these honest experts concerning Covid-19 on this page. Since the mass media is owned by Big Pharma they will never tell you these facts and will even hide them from you at all costs. Enjoy this liberating truth and share it wherever you can…
The honorable Dr. Coleman is one of the most literate and well spoken harbingers of truth. In his English style of mixing irony with facts and wit he is a true joy to listen to. I have added honorable to his name because he left YouTube in protest of the blatant censorship and finding he could not voice his opinions freely.
Dr. Coleman's Laurels: International best-selling author, Dr Vernon Coleman MB ChB DSc FRSA, has written over 100 books which have sold over two million copies in the UK alone. His UK publishers include: PAN, Penguin, Corgi, Arrow, Star, Mandarin, Macmillan, Century, Thames and Hudson, Sidgwick and Jackson. His books have been translated into 25 languages and sell in over 50 countries. Dr. Coleman's books have been serialized in newspapers and magazines all over the world, and many have been turned into television and radio series.

Summation: COVID (as we are told) is a Hoax
The above links are by no means an extensive list as I could literally share hundreds and hundreds of other researchers, peer reviewed scientific papers, and resources however the impulse for this article is to compile links to some of the people I feel are the straightest shooters exercising boots on the ground activism.
I also hear the call of the metaphysical and spiritual nature of this battle. We are all in it one way or another. Surely it is the time to step into one's personal power and let go of differing ideologies and premises that have kept us from uniting against a common enemy named Tyranny. While I don't follow any doctrine or dogma every once in a while a verse of scripture speaks strongly enough to share it. Ephesians 6:11
"11: Put on the whole armour of God, that ye may be able to stand against the wiles of the devil. 12: For we wrestle not against flesh and blood, but against principalities, against powers, against the rulers of the darkness of this world, against spiritual wickedness in high places. 13: For we wrestle not against flesh and blood, but against principalities, against powers, against the rulers of the darkness of this world, against spiritual wickedness in high places. 14: Wherefore take unto you the whole armour of God, that ye may be able to withstand in the evil day, and having done all, to stand. Stand therefore, having your loins girt about with truth, and having on the breastplate of righteousness; 15: And your feet shod with the preparation of the gospel of peace."
Many won't have the inner resolve, courage or fortitude to stand which is all the more reason to let go and Rise!