Native American Elder on Virtual Reality Theory, Vibrational Technologies, and UFO's
This out pouring of ancestral wisdom should be listened to like a long slow draw of pure water. Listening as the sun set last night and pulled into a deep sleep where sound resonates beyond the clatter and clang of human division I felt gratitude for David Lonebear's sharing. Then rising before dawn's light I listened again and found myself in resonant gnosis of what he speaks.
The keys to deciphering the simulation we are captured in will come via perfecting resonance, a vibrational state of being that is evermore the becoming our True nature as Spirit. Written words, as I am writing now, can only point in a direction of consciousness to a deepened state of being where the absolute contains the every thing.
Reverberating realities unfolding before eyes that see with wonderment sitting silently on the threshold of eternal life. 
The breeze at dawn has secrets to tell you,
don't go back to sleep. 
You must ask for what you really want.
Don't go back to sleep. 
People are going back and forth across the threshold
where the two worlds touch. 
The door is round and open.
Don't go back to sleep."
 –  Rumi

Matthew Belair
Premiered Oct 19, 2018
Show Notes: David Lonebear Sanipass is a mathematician, scientist and a Native American elder of the Mi'kmaq people. He spent the first 26 years of his life on the side of a mountain being taught history, physics, chemistry, engineering by over 600 elders around the world to become a living archivist of the star teachings.
In this show we discuss; Growing up on a mountain Studying Vibrational Technology The secret to life What is Heavy Water? Salt Mash battery Piezoelectric Effect The resonator The Magic Mirror project Simulation theory and Virtual Reality Ghost Programming The S.O.S the planet sent out
Write a letter to someone you haven't talked to in a year If you like the show please share, do an act of kindness, and become a patron here http://www.patreon.com/mattbelair THANK YOU!
About Me: ======== ✰⏀✡︎☯︎ Master your mind, body, and spirit with Matt Belair and world-renowned leaders today! This unique show features candid conversations with experts in personal development, spirituality, and human optimization. Each episode is another key to help you unlock your infinite potential and assist you on your path to self-mastery! You will discover the best tips, tools, and technologies to master your mind. The science, principles, and practices to master your body. Finally, you will dive into the deepest depths of yourself, life, the universe and the pursuit of GOD/CREATOR/SOURCE with the timeless lessons, ancient teachings, and philosophies of today's greatest minds and spiritual leaders. This show will help you let go of any limitation, help you find who you really are, and give you all of the tools to design and create the life of your dreams. This is the deepest dive into who you are, what it means to be alive, how we can connect and know GOD/SOURCE/CREATION.
May Love, Joy, Passion, Peace, and Prosperity fill your life! Namaste 🙏 👉 For top rated video podcast, coaching, speaking, media and consulting inquiries contact me. 📧
Email Me: Matt@ZenAthlete.com 📝
~~~
The theme of the Keeper of the Threshold is one that runs extremely buried within the human psyche, one I have written on previously. For myself when something profound pings my ancient memory I will usually do some more research as thought forms arise and direct my conscious awareness. Old paths long tread are left behind and new ones open for the seeking mind.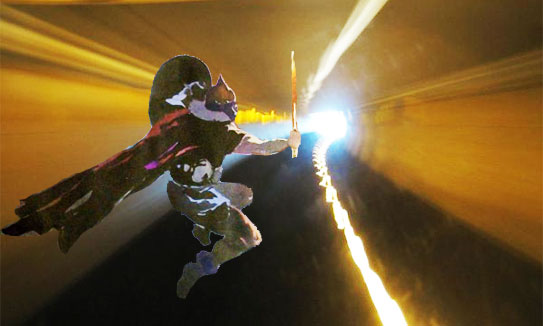 A Dream from March 18, 2018 on the Pacific Coast of Mexico:
She slipped into a dream last night listening to the eternal coming ashore of the waters of the Pacific ocean. With ease inner sight soared upon the galactic waves of creation. There she saw you in your suit of armor, golden flames and silver plating meeting a dragon of creation.
She knew not from where you came as the lightening and sparks of that clash continued for a long time, it wasn't war, it an integral part of what you chose so very long ago.
Thoughts of sacrifice rise though it was more than that, it was the way you answered a call.
(This small soliloquy of thought was meant to be part of a longer post and yet it insists to be included here, for we did answer a call and many of us came kicking and screaming in the descent, it was however a choice of free will.)
With love unbound, fierce and free
Christine